1945 Christmas from Home
December 3 - 19, 2010
Writer - Pat Kruis Tellinghusen
Director - Judy Straalsund
Band Leader - Dave Fleschner
This year's production is over but you might want to check out the CDs we're offering of 40s favorites sung by Tapestry's own Sanna Bunnell, and a restrospective of some of her previous work.
Information about the show and cast

The Christmas from Home series re-creates a live Christmas radio show broadcast from Portland, Oregon during WWII complete with a band, sketches, singers, commercials and period sound effects. The blend of humor and poignancy, big band sound and true stories combine to made an evening full of great entertainment, as well as a touching trip down memory lane for those who lived through World War II.
In its entirety, Christmas From Home is a five year series, beginning with 1941.
Audience memberst this year experienced stories of servicemen coming home and families reunited, memories of holidays during wartime, and sizzling sounds of the 1940s, including favorites such as "Sentimental Journey," "Happy Days Are Here Again," and "Someone To Watch Over Me."
Cast
MC:
Jodi Eichelberger
Ensemble: Michael Adams, Martha Bosch, Sanna Bunnell, Susan Chapman, Bruce Fiebach, David Ian, Phillip M. Meyer, Laura Myers, Ashly Will
Special Guest: Sam Mowry
Band: Dave Fleschner (Music Director and piano), G. Douglas Bundy (saxophone, clarinet),Tyler Smith (bass), Mel Tellinghusen (drums), Brian Pawlowski (trombone), Robert Pawlowski (trumpet)
"Sanna Bunnell Live!" CD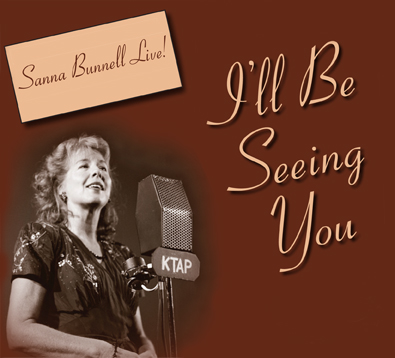 As a way to benefit Tapestry and to take home a memory of the Christmas from Home shows, we're offering a CD of all Sanna's solos through the years. Click here for more details or to order a CD for $15. You can also a CD which is a collection of favorites from some of her previous recordings.
Christmas from Home products
You've loved the beautiful work of our Christmas from Home artist, Dan McGregor. Now you can own a reproduction of that art on a mug, T-shirt, mouse pad and more. Simply visit one of the "stores" below. All proceeds go to further the work of Tapestry Theatre Company. THANKS!
1942 products
1943 products
1944 products
1945 products
Be an angel! Donate to Tapestry Theatre Company.
Please email us if you'd like to be on our snail mail and/or email list. We send only occasional announceents and don't share our list.