Past Productions
1945 Christmas from Home (2004 production)
by Pat Kruis Tellinghusen
"One of the most refreshing holiday shows to grace our town." The Oregonian
"Happy Days are Here Again"

In the final installment of the holiday show critics and audiences love, Tapestry Theatre Company presented 1945 Christmas From Home. Tapestry made a final tribute to the 1940s heroes of the homefront and battlefield with the fifth installment of this award-winning holiday series.
Staged as a live radio broadcast, the show took audiences back to the 1940s and the end of World War II, through the stories and songs of a bygone era. After four years of presenting what The Oregonian calls "one of the strongest holiday shows on offer," Tapestry concluded the series with a welcome end to the war.
This show featured the stories of servicemen coming home and families reunited, memories of the holidays during wartime, sizzling sounds of the 1940s, and a special tribute to renowned radio playwright Norman Corwin. Special guest Sam A. Mowry, as Orson Welles, presented a passage from Corwin's "14 August," a call to peace for a world that has changed forever.
As the show unfolded, performers came to the microphones to present a broadcast intended for the The Armed Forces Radio Network on Christmas Day. A live band played, while actors sang 1940s favorites, including "Sentimental Journey," "Happy Days Are Here Again," "GI Jive," "Someone To Watch Over Me" and "When The Lights Go On Again All Over The World."
The production was sponsored in part by a grant from the Regional Arts and Culture Council.
December 3 - December 19, 2000

You've loved the beautiful work of our Christmas from Home artist, Dan McGregor. Now you can own a reproduction of that art on a mug, T-shirt, mouse pad and more. Simply visit one of the "stores" below. All proceeds go to further the work of Tapestry Theatre Company. THANKS!
1945 1944 1943 1942 1941 (artwork by Rhonda Egging)
1944 Christmas from Home (2003)
by Pat Kruis Tellinghusen
"A melodic Christmas postcard..." The Oregonian

For the fourth consecutive year, Tapestry revisited the 1940s to share inspiring stories of citizens and servicemen who lived during World War II.

In 1944 Christmas From Home, audiences saw more changes on the homefront, as families spent another year apart from fathers, sons, brothers and daughters continuing to serve overseas. In the days before e-mail provided instant contact to troops on the front lines, precious hand-written letters carried hope, romance and the latest news from home to servicemen fighting abroad. This year's show featured such letters containing baby updates for fathers on the battle lines, assurances for mothers left at home and the promises and dreams of young lovers who met on dance hall floors across the globe. The show also featured the return of the crotchety Clyde Hoffstettler, as he served with four-footed heroes in the Dogs for Defense program.

A live band played while actors sang wartime favorites, including "I'll Be Seeing You," "Accentuate The Positive" and "Shoo Shoo Baby." The show also included the bittersweet "Have Yourself A Merry Little Christmas" from the 1944 Judy Garland film, Meet Me In St. Louis.

The production was sponsored in part by a grant from the Regional Arts and Culture Council.

December 5 - 21, 2003


1943 Christmas from Home (2002)
by Pat Kruis Tellinghusen

Hope For a Lasting Peace
As our nation once again yearned for peace at home and abroad, Tapestry Theatre revisited the 1940s for the inspiring stories of World War II heroes of the home front and of battles overseas. These stories were retold in the latest installment of Tapestry's original holiday series, 1943 Christmas From Home.

1943 Christmas From Home is part three in the series of plays set in Portland in the 1940s. Carefully researched and written as a live radio show by former KGW reporter Pat Kruis Tellinghusen, the Christmas from Home series blends war era songs and humorous sketches with the true stories of life in and around Portland.

This year's show featured the story of Sgt. Kenny Saito, a Japanese-American who left his family at the Minidoka internment camp to serve his country as an Army translator. Audiences also revisited a young war bride who became a mother while her husband was away, a zealous ration board officer who experienced his own Casablanca, and two young soldiers who returned from their first mission with the newly formed 10th Mountain Division.

Actors shared the stage with a live band singing wartime favorites, including "I'll Be Home For Christmas," "As Time Goes By," "We'll Meet Again" and "Tuxedo Junction."

Jodi Eichelberger returned as host Alfred Bell, along with cast members Dani Baldwin, Martha Bosch, Sanna Bunnell, Susan Chapman, Bruce Fiebach, David Ian and Sybil Johnson. New cast members included Michael Cook and Jono Eiland. "Dana Libonati and His Orchestra" returned featuring Dana Libonati on keyboard, Jayson Collins on saxophone, Justin Durrie on bass, Donna Hinkley on horns, Jim Steele on trombone and guitar, and Mel "I Can't Believe I'm Wearing This Hat" Tellinghusen on drums. The show was directed by Judy Straalsund with Technical Direction by Dan Elsner, Sound by Jeff Chapman and Stage Management by Jodi Smith.

In 2003, the company earned two Drammy awards, for vocal direction and sound design in 1943 Christmas From Home. The Drammy Committee noted how the singers preserved "the sensitivity and grace" of the 1940s with "tremendous clarity and unity of expression." David Ian returned in 1945 as Sound Effects Designer, having earned a Drammy for displaying "remarkable skill alongside his fellow performers" in using the "gizmos and gadgets invaluable to a radio sound man."


December 6 - December 22, 2002
Portland, Oregon

---
<!==================== next event =================================================>
Leaving Ruin
written and performed by Jeff Berryman
Leaving Ruin is a warm poignant tale of a small West Texas church in the nowhere town of Ruin. It chronicles the tough, often humorous battle of man chasing the will of God in a time of what seems to be divine silence. Through his humor, his lament, and his faith, Cyrus Manning wrestles with God, hoping for a break in the silence, hoping finally to hear that elusive word of blessing and affirmation, a word that sometimes comes only with quiet.
"Leaving Ruin is an outstanding achievement, beautifully written and performed." Steve Pederson, Drama Director / Willow Creek Church
"I laughed till my sides hurt, and wept out loud. Don't miss it!" Lynn Anderson, Hope Network Ministries
For more information about Jeff Berryman, his novel and his play, go to www.jberryman.com.
September 20,21,27,28, 2002
West End Theater
1220 SW Taylor, Portland Oregon
---
<!============== next event ===================================================>

The Phantom Tollbooth by Susan Nanus

based on the book by Norton Juster


Welcome to Expectations

Another long afternoon for a bored little boy named Milo became a delightful adventure through the Kingdom of Wisdom in this stage adaptation of The Phantom Tollbooth by Norton Juster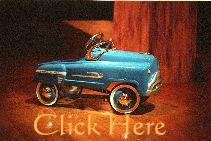 "I do hope this is an interesting game, otherwise the afternoon will be so terribly dull."
In the lands beyond the Phantom Tollbooth, Milo befriends a Watchdog named Tock, and together they encounter a host of strange and wonderful characters brought to life by Tapestry's cast of adult and child actors and puppeteers.
This lively production was directed by Karrine McDevitt (Enchanted Cottage, Look at Us Now) and featured set designs and puppets created by Mary Robinette (Harrison) Kowal, the award winning co-founder of Other Hand Productions. Technical Direction by Dan Elsner and Stage Management by Jodi Smith.
This collaboration between Tapestry and Other Hand was partially funded by a grant from the Regional Arts and Culture Council. The Phantom Tollbooth also marked Tapestry's first production in the Old Movie House Theatre, located at 1220 SW Taylor in Portland.
Cast: Ingrid Carlson, Michael Cook, Cameron Coupe, Nathan Dunkin, Richard Garfield, Mary Kowal, Hope Landsem, Rafe Larsen, Dominique McKoy, Jessica Lynne Parker, Ashleigh Rousselle, Gregory Smith, Judy Straalsund, Esther Vegdahl.
April 12 - May 5, 2002
West End Theater
1220 SW Taylor, Portland Oregon
---
<!===== "hr" creates a visible line =====>

<!===================================Next Event=============================> 1942 Christmas from Home

by Pat Kruis Tellinghusen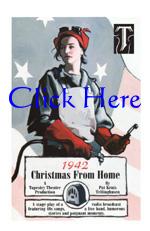 During the 2001 holiday season, our country found itself at war. Our very freedom was at stake. Our loved ones were in harm's way fighting in foreign lands, while attacks on our own shores filled us with fear. The year could have been 2001 or, just as easily, 1942.
In those difficult times, when we faced a new enemy and a new war, we wondered what we could learn from the Greatest Generation? How did they get through the holidays each passing year of World War II?
Audiences journeyed back in time with Tapestry Theatre Company's 1942 Christmas From Home, part two in a series of original plays set in Portland in the 1940s. Carefully researched and written as a live radio show by former KGW reporter Pat Kruis Tellinghusen, the Christmas From Home series blends war era songs and humorous sketches with the true stories of life in and around Portland.
The 1942 show told about: women building ships alongside the men at Oregon Ship Building in Vanport; the Japanese submarine attack on Fort Stevens; families rationing food and growing Victory Gardens; desperation in the face of coffee and nylon shortages; newlyweds separated by marching orders; and children sent to stay with relatives far away from home.
As our nation once again faced a holiday season clouded by war, audiences were invited to spend some time with the heroes of the home front. The Tapestry Radio Theatre performers came to the microphones before a live studio audience with a special broadcast for the troops far from home on Christmas Day.
The 2001 production featured a live band and wartime favorites, including "White Christmas," "Chattanooga Choo Choo," "Don't Get Around Much Anymore," "You Are Always In My Heart," "Elmer's Tune," and "Rosie the Riveter."
Cast: Jodi Eichelberger, Bruce Fiebach, Joshua Heck, David Ian, Dani Baldwin, Martha Bosch, Sanna Bunnell, Susan Chapman, Sybil Johnson and Elizabeth Edwards. Directed by Judy Straalsund. Lighting by Dan Elsner, Sound by Jeff Chapman, Stage Management by Jodi Smith.
November 30 - December 16, 2001
Portland, Oregon
---
<!===================================Next Event=============================>

Enchanted Cottage
By Sir Arthur Wing Pinero (1855-1934)

A soldier returns from war broken and disfigured, finding refuge in a country cottage. He soon discovers the secrets of beauty and happiness through the enchanting lessons of love.

The play opened with a Gala performance Friday, September 14th and ran through October 13 at the "Little Theater" on the Sylvania Campus of Portland Community College, 12000 SW 49th Ave.

September 14 - October 13, 2001

PCC Sylvania
12000 SW 49th Ave
Portland OR

---
<!===================================Next Event=============================>

1941 Christmas from Home (2001)
by Pat Kruis Tellinghusen

A premiere event by local writer Pat Kruis Tellinghusen, this show celebrated "The Greatest Generation" and the war times they lived in, as well the Christmas season. The play is set on December 19, 1941, less than 2 weeks after Pearl Harbor. Life in Portland, Oregon, as throughout the nation, had changed dramatically. Young men (and women!) were volunteering for the armed forces. Older men and women were signing on as neighborhood Air Raid Wardens. Christmas would be very different this year.

But at KTAP radio, the show must go on. The performers put together a special broadcast that was to be recorded and re-broadcast to troops far from home on Christmas day. In one sense, it was a typical show - the news, a live band, sketches and ads by the radio actors, a special appearance by Mrs. Murphy's Choir - but this show also had a few surprises along the way.

December 1-3 and 8-10, 2001
---
<!===================================Next Event=============================>

Sweet Dreams Fundraiser
May 5, 2001

Thanks to the generosity of our supporters, we raised $11, 414, in addition to an anonymous matching grant of $10,000. Thank you for helping make our dreams for a new season a sweet reality! Many thanks to Roderick Smith for donating this painting of Tapestry's Sweet Dreams, which was auctioned for $1,000.
---
<!===================================Next Event=============================>

A Careless Rage For Life
September 15, 2000

An original play by Judy U. Straalsund on the life of Dorothy L. Sayers, the woman who C.S. Lewis called "one of the great letter writers of this century."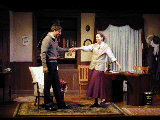 As a playwright, Sayers stirred up the British Parliament and scandalized the Church with radio plays about Christ written in modern language for the B.B.C. And regardless of the controversy, she remained a sought-after speaker throughout her life.
But though her writings abound with humor and playfulness, they also reveal a life of pain and secrets. As time went on, she forsook the world of detective fiction, where all mysteries are solved and heroes live happily ever after.
Judy Straalsund's new play juxtaposes the realities of Sayers' life with scenes from her writings. The audience sees the dashing Lord Peter living in a world of freedom and finery, while a very plain Sayers works long hours and scrimps on groceries. The daughter of a poor pastor, Sayers had to support herself and began her literary career writing slogans for an advertising agency, while crafting her Lord Peter novels in her spare time.
A Careless Rage for Life also highlights the autobiographical nature of Sayers' writings. Her books and plays tell the stories of strong women who have troubled relationships with the men in their lives. We also see the emergence of her ideal man: a certain tow-headed, monocle wearing aristocrat with a knack for solving crimes.
The character of Lord Peter stands in stark contrast with the men in Sayers' life. Before her rise to fame, Sayers had a series of failed relationships, one of which resulted in an illegitimate child - a child her public and her parents never knew about.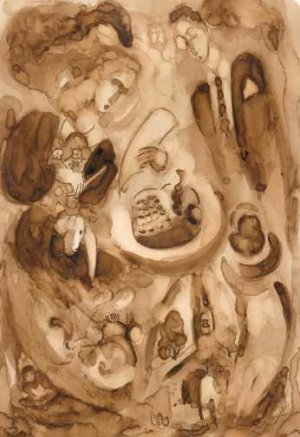 As the play progresses, we see a woman whose careless rage for life propels her to great success, yet costs her a great deal.
This fall's production of A Careless Rage for Life is the world premiere of this original play by Judy Straalsund, Tapestry Theatre Company's Managing Director. The play will be directed by Karrine McDevitt, who has directed many of Tapestry's productions including Look at Us Now, Trip to Bountiful and The Fourposter.
Cast (in order of appearance)

Dorothy L. Sayers - Joan-Carrol Banks
Lord Peter Wimsey - Jodi Eichelberger
John Cournos, Bill White, Mac Atherton - Corey Brunish
Ivy Shrimpton - Ingrid Carlson
Gloria Wentworth - Judy Straalsund
The Players - Heidi Barz, Sybil Johnson, Richard McElroy, Malcolm Van Bennett
For more information about Dorothy L. Sayers, visit the Dorothy L. Sayers Society website .
---
<!===================================Next Event=============================>

Second Wind
March 12, 2000

Over 350 people packed the Multnomah Athletic Club Grand Ballroom for an evening of song with Karen Howells that left them exhilarated but not winded. Tapestry Theatre proudly presented the concert and CD release party of Second Wind, a collection of original and classic songs performed by the popular speaker, consultant and former Tapestry board member. Karen wrote and gathered the songs following a forty-something crisis, when she found herself, "...crying out to God for a second wind." There followed an extended and profound time of spiritual, emotional and physical renewal for Karen, and passionate music-making. Her goal for the CD and concert was to share the hard earned hope and insights she experienced along the way.

During the concert, Karen was supported by a stage full of superb musicians and singers, a pair of dancers, and a painfully funny sketch by Tapestry's own Judy Straalsund and Pat Tellinghusen.

While the Second Wind concert was a onetime event, the CD is always ready for another spin.

For more information, visit Karen Howells.
---
<!===================================Next Event=============================>

Gifts for the King
December 1998

An artist prepares to attack a large, empty canvas. Before him, still as stone, a model sits...and sits...and sits. "Amazing," she finally says, "the things that go through your head when you're quiet." Suddenly the parade of thoughts careening through her head cascades across the stage in the form of actors, singers, dancers, mimes, musicians and a unicyclist!

Those were the gifts woven together into Gifts for the King, a four-night celebration for the King of Kings. Think, "the Little Drummer Boy" meets "the Ed Sullivan Show." Each night artist Roderick Smith created a new painting, which was later sold by silent auction to interested audience members. Each night the cast of 30 performers offered their gifts to the King, and each night the audience enjoyed a unique Christmas experience.
---
<!===================================Next Event=============================>

Marvin's Room
October 1998

In life, laughter and tears are often intertwined. It's rare to find a play that captures those moments so perfectly.

Marvin's Room is such a play. Two sisters and their extended family live and love through life and death in hilariously poignant ways. Frank Rich of the New York Times called Marvin's Room "... one of the funniest plays of the year, as well as one of the wisest and most moving." Written by Scott McPherson, Marvin's Room has won the Outer Critics Circle for best Off-Broadway play and the Drama Desk Award for Best Play.

Bessie and her sister Lee haven't seen each other for seventeen years. While Bessie's been caring for their ailing father and Aunt Ruth, Lee's been raising two boys. When Bessie discovers she has leukemia, Lee reluctantly comes to Florida to see if she or her sons are a match for a bone marrow transplant.

Cynthia McGean, fresh from her critically acclaimed work on The Yellow Wallpaper, directed. Tapestry's Artistic Director, Judy Straalsund, played Bessie, and long-time Tapestry director Karrine McDevitt played her sister Lee. Two-time Drammy award winner Dana Young played Hank. They were joined by Portland stage veterans Chris Porter as Dr. Wally and Linda Goertz as Dr. Charlotte. Completing the cast were Gail Hebert as Aunt Ruth, Jack Scholz as Charlie and Matt Rathbun as Bob. Set Design was by Mary Harrison, lighting by Dan Elsner and costumes by Marty Park.

To see pictures of the set for Marvin's Room, click Here.
---
<!===================================Next Event=============================>